The Best USB Hubs and Docks
New USB hubs and docks arrive at retailers just about every week, and we've updated our guide with some new, great options.
USB-C hubs are part of the ugly truth of using most modern computers, especially thin laptops like MacBooks. If you want to plug in anything with a connection other than a USB-C cable, a hub is the most efficient way to do so because it provides multiple types of ports in a relatively compact package. Our favorite is Vava's 7-in-1 USB-C Hub (VA-UC017) because it's reasonably priced, equipped with an ideal range of ports that all transfer data at full speed, sturdily built, and small and light enough to throw in a bag.
Our pick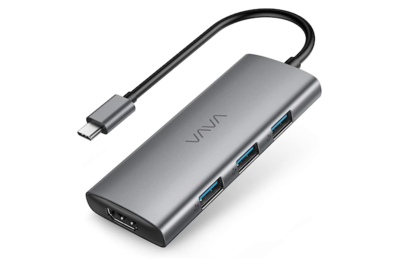 This portable hub has every port you're likely to need: three USB 3.0, HDMI, USB-C power pass-through, and both SD and microSD card readers.
Buying Options
With three USB-A 3.0 ports plus HDMI (with support for displays with 4K resolution), SD, microSD, and the ability to pass power to your laptop from a charger, the Vava 7-in-1 USB-C Hub (VA-UC017) offers the connectors most people need most of the time. It's powerful enough to leave at your desk full-time as a docking station but small enough to slip in your laptop bag and use on the go. It lacks an Ethernet port but costs half as much as comparable models that have one.
Upgrade pick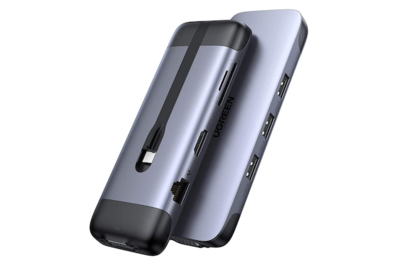 A little larger than our main pick, this hub has the same ports plus Ethernet and VGA, as well as a convenient nesting cable.
Buying Options
Ugreen's 9-in-1 USB C Hub offers performance similar to that of the Vava VA-UC017 but also adds an Ethernet port and a VGA connector (the latter common for connecting older displays and projectors) to the mix, all for about twice the price. Its USB-C cable nestles into the hub's body, which is a nice touch. If you need those extra connectors, choose this hub, but otherwise save some money and go for our top pick.
Also great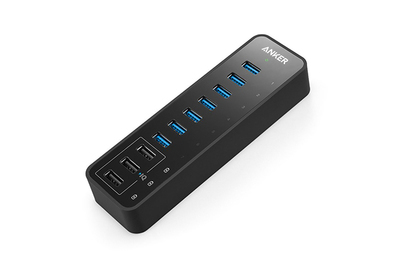 Its seven USB 3.0 data ports and three high-speed charging ports face upward, so cables and plugs take up less room on your desk.
If you're simply concerned about plugging in as much as you can to your computer, the Anker 10-Port 60W USB 3.0 Hub is the model you should choose. It has seven upward-facing USB-A 3.0 data ports with a helpful LED activity indicator for each; it also has three 12-watt (2.4-amp) power ports just for charging. As a bonus, it's aesthetically inoffensive—it doesn't look like it belongs with the greatest hits of ugly '90s technology, unlike some of the other hubs we tested. Note that the Anker 10-Port 60W USB 3.0 Hub ships with only a USB-A–to–USB-B cable, so you'll have to buy a separate USB-B–to–USB-C cable to connect it to many modern computers.
Upgrade pick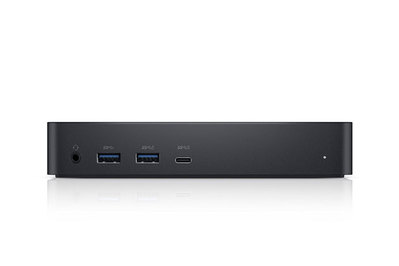 A more expensive option for a permanent setup at your desk, this model offers more ports and charging without the need for an extra power adapter.
Buying Options
*At the time of publishing, the price was $157.
Docks are larger and usually equipped with more varied ports than hubs, and they can provide power on their own without a separate USB-C charger, making them a better fit if you're looking for something to set on your desk permanently. Among the five USB-C docks we tested, Dell's D6000 Universal Dock is the best, with four USB-A ports, a USB-C port, HDMI and two DisplayPort video ports, Gigabit Ethernet, and a 3.5 mm audio connector. It worked equally well with a PC and a Mac in our testing. It also delivers 65 watts—the most charging power of any dock we measured—and it's the least expensive dock option we tried (though it's usually more than twice as expensive as the Vava hub).
Our picks' ports compared
| | | | | | | |
| --- | --- | --- | --- | --- | --- | --- |
| Name | USB ports | Video ports | Card reader | Ethernet | Audio | Charging |
| Vava VA-UC017 | USB-A (three), USB-C (one, charge only) | HDMI (one) | SD, microSD | None | None | Yes (requires laptop's charger) |
| Ugreen 9-in-1 USB C Hub | USB-A (three), USB-C (one, charge only) | HDMI (one) | SD | Gigabit | None | Yes (requires laptop's charger) |
| Anker 10-Port 60W USB 3.0 Hub | USB-A data (seven), USB-A power (three) | None | None | None | None | No |
| Dell D6000 | USB-A (four), USB-C (one) | HDMI (one), DisplayPort (two) | None | Gigabit | 3.5 mm in/out (one), 3.5 mm out (one) | Yes (charger included) |
About your guide
Nick Guy is a senior staff writer covering Apple and accessories at Wirecutter. He has been reviewing iPhones, iPads, and related tech since 2011—and stopped counting after he tested his 1,000th case. It's impossible for him not to mentally catalog any case he sees. He once had the bright idea to build and burn down a room to test fireproof safes.