The Best iPad Keyboard Cases
Apple has announced the 8th-generation iPad, with identical dimensions to the 7th-gen model. This means all of our keyboard case recommendations will still fit.
An iPad can do almost everything a laptop can, but to truly replace a computer, you need a great physical keyboard, too. We've tested more than 100 iPad keyboard cases over the past few years, and we've found that Logitech's Slim Folio is the one you should get for any non-Pro iPad. The Slim Folio is more pleasant to type on—and more like a typical laptop keyboard—than any of the competition, and it provides thorough protection without adding unnecessary bulk.
Our pick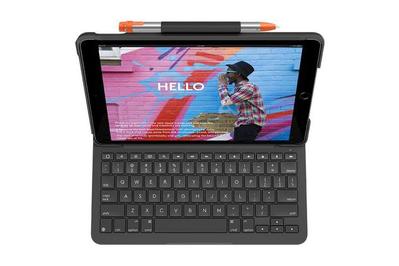 Great keys, a smart auto-wake feature, a four-year battery life, and good looks make this the best iPad keyboard case around.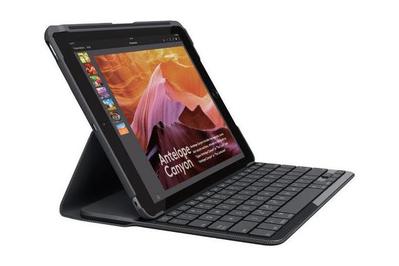 This version of our favorite keyboard case is made for older iPads, but it has the same great keys, battery, and design that we like in the newest version, plus a fabric exterior that's especially nice.
Buying Options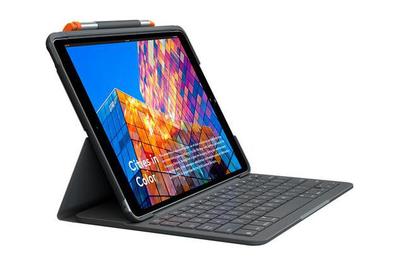 Like the versions for standard iPads, this keyboard case is our favorite for the iPad Air because it offers the same set of features and the same overall value.
If you need to be able to type on your lap, or if your iPad serves as your laptop, the Logitech Slim Folio's superior keyboard stands out from those on other models we tested. It automatically connects with your iPad when it's properly aligned in the typing position and disconnects when it isn't, so you never need to worry about turning the keyboard on or off. This clever power management helps the replaceable coin-cell battery last for up to four years, which is very likely the amount of time you'll use the iPad itself. Dedicated iPadOS function keys provide quick access to commonly used features, and an Apple Pencil holder lets you easily carry the stylus around. Although the Slim Folio is a bit thicker than some of the competition, its polyurethane or fabric exterior (depending on the model) looks and feels nicer.
Upgrade pick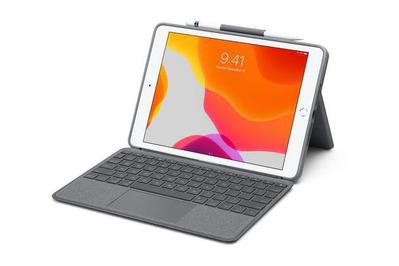 The Combo Touch offers a good trackpad and a great keyboard, turning your iPad into a mini laptop.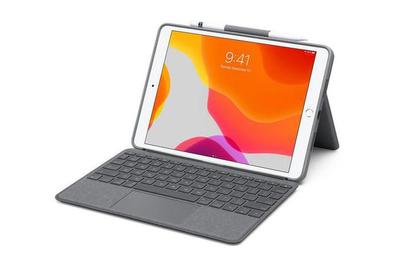 Also compatible with the 10.5-inch iPad Pro, this version of the case is a fraction of an inch thinner.
You don't need a trackpad to use an iPad, but having one can make your tablet feel more like a laptop. Logitech's Combo Touch for iPad (7th generation) and Combo Touch for iPad Air (3rd generation) is the only non-Pro iPad keyboard case to feature a trackpad right now, but it's a solid upgrade in its own right. The trackpad feels great and fully supports all of iPadOS's gestures. The keys themselves provide an excellent typing experience, and the case is more protective than the Slim Folio. If you want an all-in-one option, the Combo Touch is worth the price premium.
Runner-up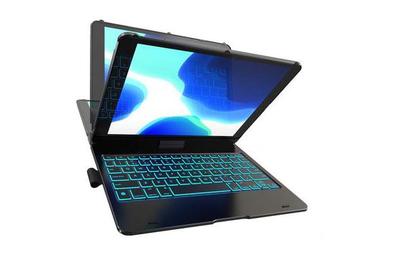 This keyboard case allows you to position your iPad at many more angles, but the keys don't feel as nice, and you might run into issues with customer service.
Buying Options
The biggest downside to the Logitech Slim Folio is that it can prop up the iPad only at a single angle. The Typecase (formerly Yekbee) 360 Rotatable provides much more flexibility because it connects the case to the keyboard with a pivot point. This design allows you to not only tilt the iPad back and forth but also to rotate it around and fold it flat against the typing surface, much as you would do with a convertible laptop. The keys simply aren't as nice to use; they're more plasticky and hollow-feeling. We don't have much experience with its manufacturer, and after trying and failing to reach the customer service team, we're not sure the company will provide reliable technical support.
Budget pick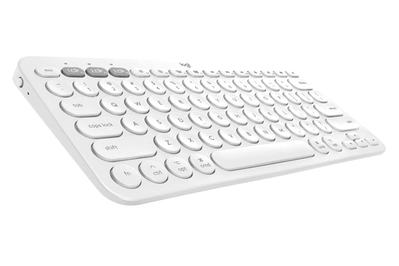 This standalone Bluetooth keyboard—paired with whatever case you like on your iPad—is cheaper, but it may be less convenient.
Buying Options
*At the time of publishing, the price was $50.
To get the least expensive keyboard case without having to sacrifice a good typing experience, pair our favorite Bluetooth keyboard, the Logitech K380 for Mac Multi-Device Bluetooth Keyboard, with a good iPad case. The K380 for Mac is bulkier than an all-in-one keyboard case, and it may be less convenient, but this combo costs much less, and it's great to type on.
About your guide
Nick Guy is a senior staff writer covering Apple and accessories at Wirecutter. He has been reviewing iPhones, iPads, and related tech since 2011—and stopped counting after he tested his 1,000th case. It's impossible for him not to mentally catalog any case he sees. He once had the bright idea to build and burn down a room to test fireproof safes.